All that glitters...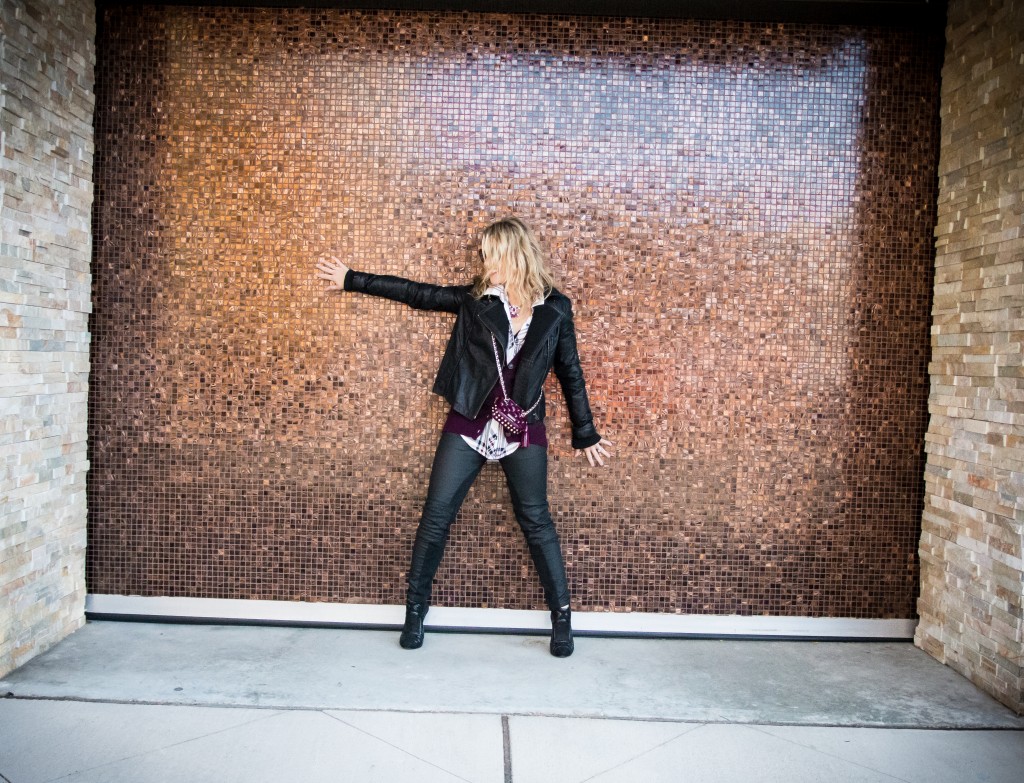 I can only imagine how cool the inside of this person's place is if their garage door is this awesome. Talk about an inspiring background, this might be a location you'll see again and again on future posts. Either that or I'm going to have to convince James that we need to tile a wall in our place this way.
I'm not sure how Danielle was able to snap so many awesome pics because our bodies were numb from the wild wind. It was a good day for layers and winter is the best way to get the most miles on your wardrobe by wearing staple pieces many different ways. Don't be discouraged from mixing patterns like animal prints and plaids like I did here. It's all about bringing together the same or similar colors to help create a cohesive look.
My shirt is by Rails, I have a another one of their styles that I featured in an earlier post. It's a testament to their brand that I own two plaid shirts, you will love the richness, quality, fit and comfort, be sure to add one to your wish list!
My coat is from last season, and is vegan leather by Free People. Here's another great style which makes even more of a statement with the metallic finish.
My sweater is by Dex and I found it at Marshall's this past weekend. I spotted it as soon as I walked through the doors. Burgundy, animal print, studs= favorite colors, and trends going on now.
My necklace is from a fabulous local boutique here in Hoboken called Aaraa located on 6th street between Grand and Adams streets. Neeta, the owner, has been selling gorgeous and affordable pieces in Hoboken since 2001.  I saw this piece and fell in love with the mix of colors, of course the sparkle, and the edginess of the chain. It's a piece that I plan to layer with delicate necklaces as well, and would also look great with a plain solid color sweater, or even a lace camisole and blazer for a night out on the town.
My rings are also from Aaraa, and can be worn alone, or stacked together like I did here. I love that they are all very different style wise, but create a fun look together.
My shoes are Tory Burch . I purchased them 2 years ago and, shockingly, this is only the 2nd time I have worn them. Not for any fault of the shoes. Au contraire! I love them so much, I feared I would ruin them. Silly, yes. I know they will get lots of exposure now that I've broken them in. Here's a pair I also love and are on sale!
My bag is Rebecca Minkoff and a Guilt.com purchase. It's perfect for holding my phone, ID, money and a gloss. No snacks for the kiddos in this one! I also love this one.
Danielle and I made a detour to the Hoboken Cheese and Wine store where we purchased my favorite triple cream brie and D's favorite, Midnight moon. Besides racks of clothing in a fabulous boutique, cheese is another one of my guilty pleasures.
We then meandered into the Monroe Center, where there are so many great little nooks and crannies to explore.
My pants are a wax coated cotton by Zara that I purchased at the end of the summer on sale. The quilted knees is what sold me and I'm excited to pair these up with an oversized sweatshirt and sneakers for a more relaxed look. Here's a similar pair.
All images by Danielle Guenther
With the holidays right around the corner be sure to check off some of the people on your list with great pieces from Aaraa, and maybe you'll even find that perfect piece for your upcoming holiday party! Happy shopping and thanks for reading!